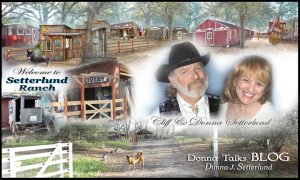 By: Donna J Setterlund
The ranch sits in the foothills at the northern end of the Sacramento Valley, California, and is one of the oldest ranches in Tehama County. The first owners came to the area from San Francisco in the mid-1800s, acquiring several hundred acres of oak studded ranch land. Over the years most of the property was sold, a new main house built, and the founding family enjoyed the ranch for more than a century and a half.
Purchased by Cliff and Donna Setterlund, who are the second family to reside on the property, it is now known as the Setterlund Ranch. Cliff is a disable Veteran, and a place was needed to get away from the stress, endless noise, and the hustle and bustle of city life. A ranch was the perfect place to relax, restore the soul, and enjoy the sounds of Mother Nature and the tranquility of the country.
Cliff and Donna have worked with families, youth organizations, and community groups all their lives. It is only natural for them to create a project that will benefit hundreds.
WE UNDERSTAND: Being a Vietnam Veteran suffering from both physical and mental injuries, Cliff understands and appreciates the need to help other Vets. Talking to and brushing the many rescued animals on the Setterlund Ranch, helps him relax. Donna Takes care of Cliff and manages the ranch. She does most of the animal care and has a special relationship with each furry or feathered friend. She says being out in the fresh country air boosts energy and encourages her imagination to create more ideas and projects. As an author / illustrator Donna creates and publishes children's books and is working on stories about each animal on the ranch. It is her hopes, that selling her books will help supplement the growing cost of expenses to care for their ranch family.
New neighbors and friends appreciate the love and respect for animals on the Setterlund Ranch and helped provide a variety of animal friends. 3 large horses, 3 mini horses, 2 dwarf cows, 1 steer, 3 miniature pot bellied pigs, 3 dogs, 4 cats, chickens, and doves. And the latest addition Mr. Mojo, a miniature donkey, which love apple treats and follows Cliff around begging for goodies.
Our Vision: is to make our ranch a safe place for families and friends to gather, re-create an Old West Town, fill it with memorabilia, event areas, historic exhibits, and for entertainment and fun, have accommodations for activities and group functions. On the artistic side, we plan to have classes in painting, arts & crafts, creative writing, and more. Guests will be invited to enjoy ranch life, meet our rescued animal family and possibly make a new friend. Animals are GOOD THERAPY and guests can participate in ranch chores and learn about animal care. There will be campfire activities with hot dog roasts, sing-a-longs, and BBQs. participate in exploration, treasure and marble hunts. Guest can relax and enjoy.
Copyright 2019 – Donna J. Setterlund
Zontoria Productions, Cottonwood, CA 96022