A Serendipity World of Everyday Magic
Donna J. Setterlund
Author  –  illustrator  –  creative imaginer

As a creative, I was a woman searching for the magic to make sense of my tumultuous complicated life. Inspiration came in the form of an amazing woman named Margaret, who was the studio model for "Tinkerbell" in the original movie "Peter Pan." Tinkerbell took me by the hand and sprinkled me with pixie dust, encouraged me to look for the things I didn't know I needed, and shared her serendipitous personality. This fortuitous magic ignited the curiosity that started everything, and led to a lifetime of writing and illustrating the stories that I now share with families and children everywhere.  It is an amazing world of everyday magic.
Believe and all things are possible.


_______________________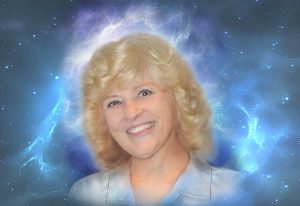 Donna J. Setterlund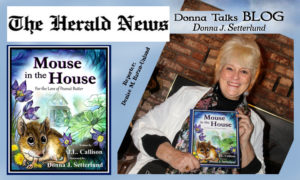 Herald News Article
ZONTORIA PRODUCTIONS
I started writing and illustrating books when I was in high school completing more than two dozen.  My self-publishing career started in 2017 with my first book "Spirit of the Crystal". Having created over 18 books for the Zontoria Collection as a PROOF OF CONCEPT, it was only fitting to name my new business Zontoria Productions.
Read about Zontoria at:    Read Now 
Learn about Concept at:   :Read Now
Donna's Books are different from Everything else.
When you pick up a book by Donna J. Setterlund and flip through the pages, the vivid colors will capture your interest immediately. The simple complexities of her personality and life are mirrored in her words and art as she creates from the heart touching the core of being alive. All of her books are illustrated offering the reader an opportunity to discover their own insights and inspiration. Donna was born with the creative gift of seeing ideas come together and develop into something complete and wonderful long before a pencil is even picked up or a computer is turned on. Her overactive imagination and desire to create pieces of beauty and value have stimulated a very colorful and exciting life to say the least. Her publishing adventures with writing, illustrating, formatting and completing her many projects have been an incredible experience with their ups and downs, intertwined with large portions of fun and surprises.
Thanks for listening.    Jeannie
Ask Donna about illustrating your book.
Donna works in many styles, has reasonable rates, and is very efficient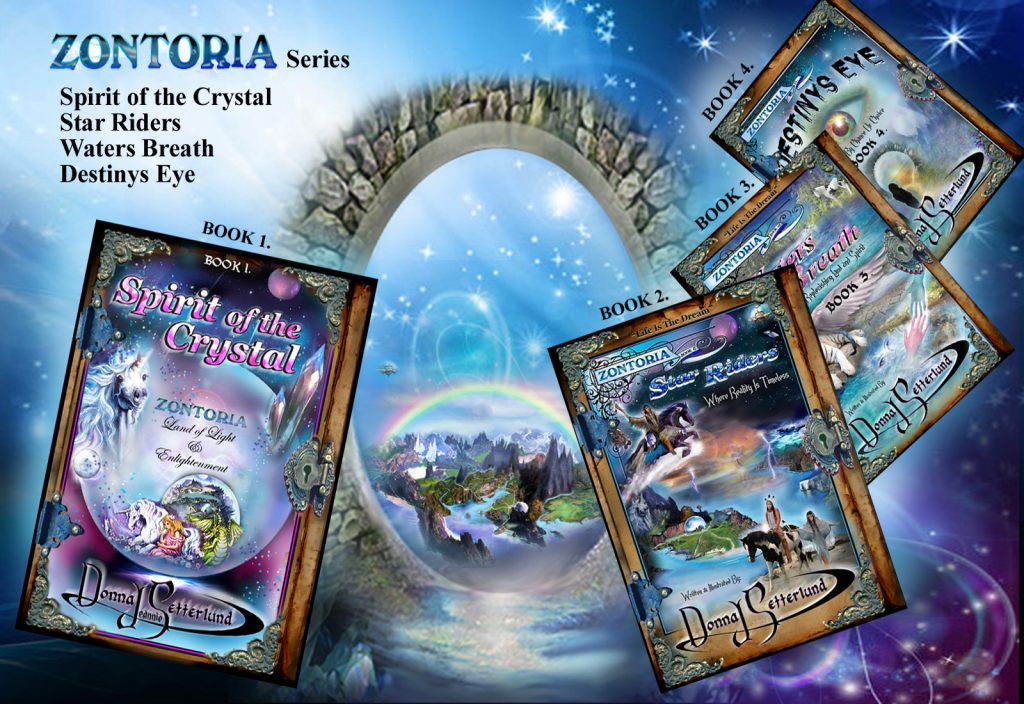 Zontoria
Main BOOKS  1. 2. 3. 4.
These are fully illustrated manuscripts, forming the continuing series of worlds/books of Zontoria. Each of these simple and singular worlds hosts an array of special characters, who interact with life's questions and challenges in their unique ways and inspire in turn the next worlds/books – not as sequels but rather as the next logical steps/ series in the World of Zontoria. This is the journey of anyone learning to self-cope with the dynamic changes and complexities of their life's personal pressures and choices.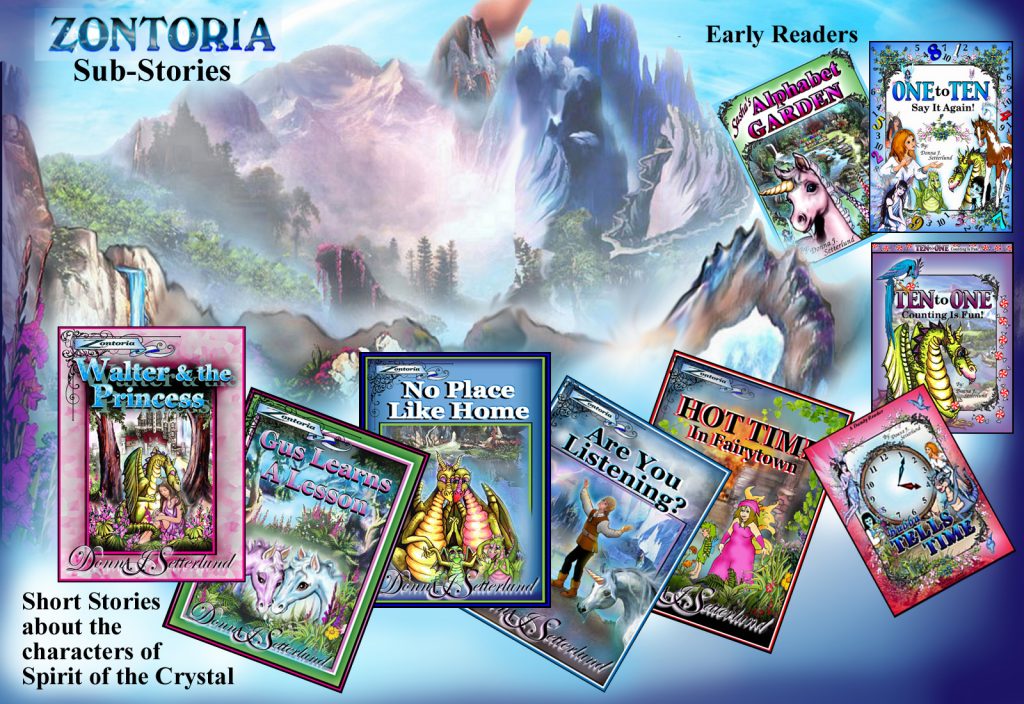 Zontoria Sub-Stories
Progressive Endless Stories
Each world/book in the Zontoria Collection spawns a logical progression, and continual series of short stories – Sub-Story Books, dealing with the endless every-day issues of the lives explored in the Zontoria Books Manuscripts. In the Zontoria Books, characters and the reader explore various worlds. In the Sub-Story Books, they go back to tell the personal stories, where the reader, observes challenging personal issues, questions and perspectives explored with and by familiar and trusted characters.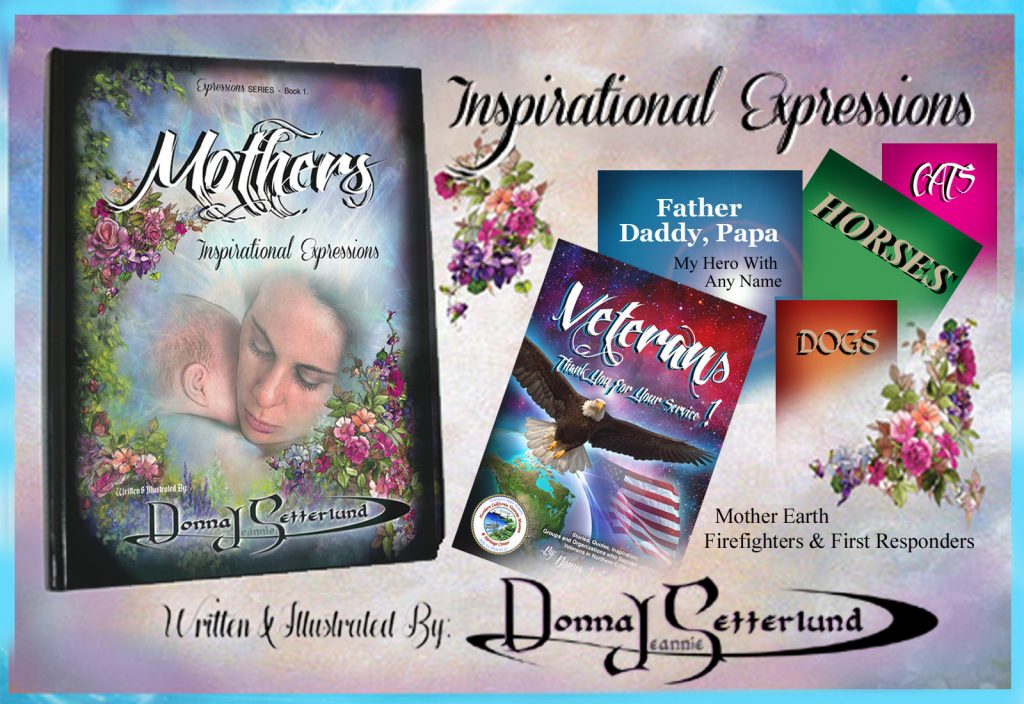 Expressions
Inspirational Quotes & Poetry
The Inspiration Expressions Collection includes topics from everyday life starting with Mothers and Veterans. Other subjects will feature Fathers, Sisters, Horses, Cats, Dogs, Babies, Firefighters, Old-Timers, and First-Responders. Subjects are colorfully illustrated in a nostalgic Norman Rockwell style, as rhythmic rhyme plays with thoughts and feelings.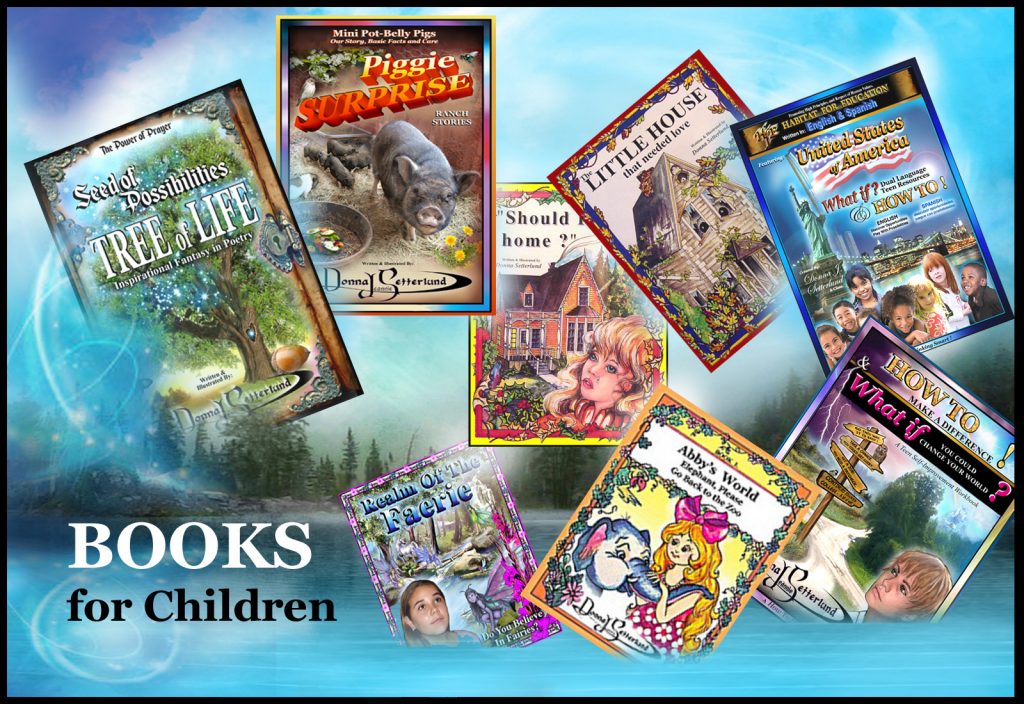 other books
A Big Variety
Donna has several collections being created and completed at the same time. She says it helps her keep focused and gives her imagination many directions to expand. There are self-help books for kids, featuring the USA, and in dual languages for other countries. Coloring books are another favorite to work on because they are all artwork. Then Donna has her fully illustrated simple story books about little important things in life, all with a moral messa
Copyright 2019 – Donna J. Setterlund              Zontoria Productions – Cottonwood, CA. 96022