In our world of the increasing complexity of sameness, I try to make my books refreshing, featuring simple stories of fantasy based on real life. All of my books are a little bit different than others available. I share the best and most inspirational pieces of my life. I learned at a young age that life is like a paint pallet of colors: mixed in different portions they can make rainbows or mud. My world is shared in dozens of books, on hundreds of canvases, and in every project I start and complete.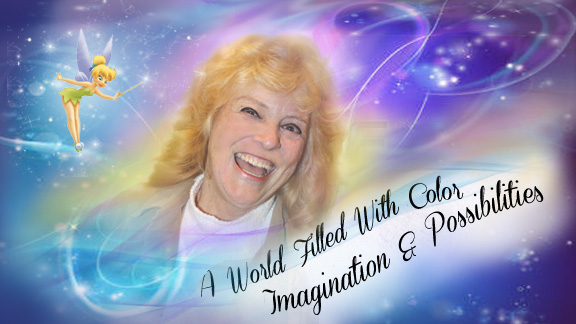 A Serendipity World of Everyday Magic
When you believe, all things are possible.
I have always been an artist first but always loved writing poetry and short stories. Becoming an author and creating a large collection of books just happened as the stages of my life progressed and changed. Family has always been my first priority and my dream of becoming a successful author had to wait for its time. Having raised four wonderful children who are now chasing their own dreams, it is time to focus on pursuing my own life goals. I don't like talking about myself and all of life's challenges and adversities, so I will let "Jeannie" tell you more about me and my story. (See below)
• STORIES FOR SELF-COPING IN LIFE •
Addressing high impact subjects of concern that are usually avoided, most individuals are resigned to struggle their entire lives to find ways to cope with their challenges and to find personal answers to get them through. Sensitive and taboo subjects are rarely, if ever, bridged, and answers are guessed through peer interaction and pressures. Stress and personal questions of belonging cause deep scars and low self-confidence. Just talking about personal worries or concerns is intimidating for both adults and youth.
To find a way to talk about personal issues and questions in a language kids and adults can both understand and discuss, as subject matter through everyday conversation and everyday life, is an age-old dilemma and challenge, which has resulted in endless books and stories missing the salient points that the child or adult must articulate their feelings and not simply be told what the adult perceives as their problem and its solution.
As I was growing up, the I felt the problems of confusion and frustration, with no real place for answers that were directly relevant to my problems. I never had a place to state, or attempt to state, my feelings and worries; so, I could find my voice and answers.
Finally, out of sheer frustration for dealing with her hopes, dreams, traumas, questions, confusions and doubts, I took my heartaches and traumas and turned them inside-out to expose and dissect them into little pieces of understanding through writing. I let the characters in the stories I explored speak for me and state what I needed to say. It was cathartic. This approach was so powerful, I gained confidence, found self-esteem, and was driven to move beyond my personal tribulations, blocks and boundaries to complete more of these exploration stories of family and of life. I wrote these stories for myself, and they got me through life.
Eventually I realized that finding a voice like this was important for everyone and that my stories could help others, who read them as well.
Through these works, grown from my own life and voice, my stories touched the core of the value of being human and dealing with being human – self-coping. People have always escaped the tribulations and traumas of their lives and tried to cope with them by using their imaginations. This body of work takes that coping uniquely further. These works are not an escape from reality but rather an absorbing way to find a voice to explore the solutions for getting through ones' own reality.
Along my life journey, I have created and compiled a literary collection featuring the world of "Zontoria", based on my life experiences and those of individuals around me. This large body of integrated work includes: fully illustrated manuscripts, sub-story books, early readers, and a continuing series of ancillary subjects and works, as they relate to my drive to cope in this world for myself and now, as shared, for others.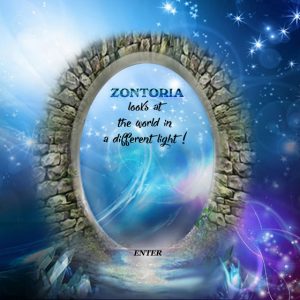 "Step through a portal into a world of light & enlightenment"
About Donna and Her Work
for families, children, and seekers of something different.
Introduction: the Author's works were generated out of deeply felt sincere needs and stresses for coping with her life tragedies, conflicts and the resulting emotions she endures. She works through life's issues vicariously through her characters, their worlds, dilemmas and the solutions they explore, articulate and live. Consequently, it is appropriate to have her very first character, Jeannie, describe the Author's journey in developing this body of work:
We all have dreams and make wishes. We want a life where we can have some fun, find peace, relative calmness, contentment and ultimately continuing moments of happiness. But, when troubles take over, frustrations and stresses start squeezing the life out of us we want to scream, cry, or just find some place to hide. People all over the world are pretty much the same when it comes to happiness, sadness and stress. It was no different for Donna but she refused to let adversity get the best of her and was determined to find a way to make life better. It took a lot of work but that's what she did, and then something great started to happen. Then she realized that what she was doing to help herself could really help others, too, and people wanted to share what she was doing with their families and friends. If you would like, I will tell you all about it.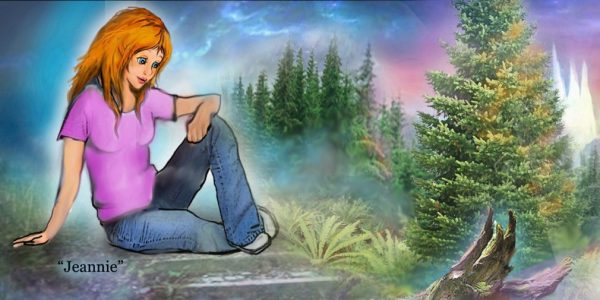 Hi, my name is Jeannie. I am here to tell you a little bit of Donna's story. Just in case you don't know, I was the first character she created. Donna's idol was Walt Disney, and even as a child, she was drawn to his ways of coping with life's craziness and his inner conflicts. He had a mouse to talk with. Donna has me; so, I guess that makes it okay for me to try to explain things, because Donna has trouble talking about herself.
Hi, my name is Jeannie. I am here to tell you a little bit of Donna's story. Just in case you don't know, I was the first character she created. Donna's idol was Walt Disney, and even as a child, she was drawn to his ways of coping with life's craziness and his inner conflicts. He had a mouse to talk with. Donna has me; so, I guess that makes it okay for me to try to explain things, because Donna has trouble talking about herself.Donna's life was really colorful and complicated growing up and she had a lot happen that was both good and bad. Her Dad was an artist and a writer. He inspired her to be creative. He taught her how to keep her life full of curiosity and interest. He told her to dream and, no matter what happened, to go after those dreams. He pushed her and inspired her but he died, when she was only eleven. Not having him anymore to talk with left a great big hole in her heart. Her mother was both practical and artistic and taught her to think, create and to make things. Her mother told her that if she was going to do something, do it right and don't waste anyone's time. Being a teenager was hard for Donna because she had so much responsibility, and things happened that she doesn't like to talk about. She says she got a lot of experience; so, she relates to and understands many things that are the sources of other's struggles.
Her family moved a lot, and Donna only had short-term friends and was always having to make new ones. She was alone most of the time and learned to watch and listen. Anyway, Donna made it through her teens, got married, found the joy of being a mother, and gathered a whole bunch of new problems along the way. Being married didn't turn out to be that "happily ever-after thing" she had dreamed of. Therefore, after a lot of years of trying to make a bad marriage work, she gave up and started over as a single mother. Several years later, and with more of that stressful life experience to add to her lessons, she remarried, became part of another story, and of a whole bunch of new adventures and challenges. That is all to simply say that she was and is just human.
We all have days when we feel we can't survive, when our dreams are shattered, and stress turns to hard frustration, doubt and defeat. Donna was going through a real rough patch. It wasn't just the stuff in her own life that made her sad; it was all the things happening around her. She had just gone through a hard six months recovering from a really bad illness, and then her new husband became disabled and couldn't work. Donna had two daughters, two stepchildren, and foster kids to worry about. She couldn't let the family down because they all depended on her. She wanted to keep the family together, but what could she do, and where should she start?
It's funny about life, when things get really hard; you think there is nothing else that could possibly go wrong. Well, good old "Fate" can always come up with a surprise, and she had a big one in store. A series of earthquakes shook their community, causing major damage, and Donna's family lost their home, and most of their personal possessions. She was even separated from her kids because they all had to go live with family and friends in another town. I think losing her kids is what really broke Donna's heart. Despair and sadness can be overwhelming sometimes, and when life just keeps demanding more and more from an individual, something has to happen, something has to give way. Everyone deals with this kind of pressure differently, some cry, scream, lash out at the world, or shut down completely. Donna's life was really messed up but she wasn't going to give up and desperately searched for a way to get her head on straight, and make things better.
Donna didn't know what to do: no home, no job, no family, no hope, only worry and despair. Those were very dark times for her. Then one day, while cleaning up their demolished home, she found a box of acrylic paints; so, as therapy, she started painting. All the things she loved as a child started to appear on canvas. I was in her first painting, and it made her feel better. In fact, it felt great, and she painted some more. As she painted, she thought about her childhood and about all of the choices she had made to get to this place in time. She wished she could go back and start over, and the thought that she would never be able to change the past drove her down. In reality, she had a family depending upon her; so, moving forward was the only option. She simply dove into her painting. Her painting's caused people to ask her questions about the subjects and circumstances that inspired her visions and these creations. She felt better when she was painting, and the final results and others' reactions to them made her think how she could express her feelings further.
She loved to write poetry and short stories; so, why not create a story about the characters in her paintings? But what kind of story should she write? She was advised to write about what she knew best but what she knew best was her own life, and all the things that had happened to her were the source of her depression and confusion. She needed help and not to revisit feeling bad. She thought that writing about all the stuff that had happened and was going on in her life would be depressing. Then she figured that maybe she could ask the questions or "re-live" the issues of her life in such a way that she could get answers for once, and that would make all the bad things and sadness have happy endings. She started asking me a bunch of questions but I didn't know how to answer them until she figured out what I could ask and say. Kind of funny, huh?
Then she thought what fun it would be to have someone else live all the problems for us, making it so we don't have to. Then she found out that even in a made up world, there are real problems and challenges to overcome. She started talking with her children and their friends, asked questions and talked about all their problems and frustrations. The kids wanted answers for things that bothered them, too. It made Donna think about all those subjects of concern and how hard it is to talk about stuff that everybody struggles with in their lives. Being a parent and foster-parent made her want to do something. She wanted to write about the things that would make a difference to help her life and her kids' lives, and maybe do it as a school project. So, she went to the High School but was told, "We can't talk about all those things. We have to protect the kids from life until they graduate." Well, that made her angry and frustrated because it didn't make any sense. Protecting the kids from life by not talking about all the things that happen in life? That is what had happened in her life. That was just wrong!
So, Donna started writing about all those things with her own children, and foster-children. The more she wrote about all the things that happen in life, the more she understood why they happened and what she could have done differently. She started taking situations and problems from her life, and as she explored these, I felt bad that there was so much sadness, frustration and feelings of being lost. Yet, along the way, she figured out how to make the stories really simple and fun, while we all found helpful answers to all the problems. The writing helped her, helped me, helped her kids, and we all loved it, and all our problems got better. All that writing, research and thinking about life from different angles started to help Donna feel better. Little by little, she started to change, and all the things around her became better. Her creations simply made her feel good.
Now, she writes every day, and I don't think she will ever stop. Some people call her obsessed but she really does it because, for her, it makes magic happen. The magic is really just finding a way to help us all understand the things that happen in our lives and to find ways to deal with all that pressure and self-confusion.
I think the hardest part of life is the feeling of being alone, as we search to find our own answers. The idea that no one really understands what we are going through makes things harder. Each of us should be able to find someone to talk with but most of us are afraid or just don't know where to look. The worst is when we never have anyone to talk to. I became Donna's voice, and a communication tool, to help her speak to herself, to ask questions, and to find her own questions and answers, which in the end are many people's questions and answers. It just happened that when other people read these simple stories, they ran into "themselves" there and accidentally gained a little hope and insight for their own lives. Donna really liked that the stories might help others to find themselves through these simple worlds, and she decided to share these worlds with others.
Zontoria and all of the stories, may have started with Donna and me but in the years that followed, the worlds, like the problems they explore, continued to grow and are now a pretty big collection. The stories we are in are very simple; and yet, they have a huge effect on us all.
Pretty cool, huh?
Sincerely, Jeannie
Donna's Favorite Quote
To look is one thing.
To see what you look at is another.
To understand what you see is another.
To learn from what you understand is still something else.
But to act on what you learn is what really matters.
Author Unknown
Copyright 2019 – Donna J. Setterlund
Zontoria Productions, Cottonwood, CA 96022