The Wish,
Book One is the First in the Serendipity World of Zontoria Series
Fiction colliding with reality for children and adults. Serendipity is one of the most beautiful words in the English language; defined as the occurrence of making pleasant and desirable discoveries by pure accident. In simple words, it means finding something truly wonderful without looking for it.
Progressive stories have been around as long as gossip. We all know how a little story can grow when shared, and shared, and shared. The Serendipity World of Zontoria has been created as a series of progressive stories.
Testimony:

I find the works of Zontoria, uniquely human, amazingly relevant to life's maze and certainly potentially helpful to any child or adult who struggles with life's questions, and with their inescapable journey of trying to figure the answers out to anything.
I believe Zontoria is unique and groundbreaking in its potential and lasting effect on individuals' lives. In many ways, and because it grew honestly out of the struggling needs of the Author to craft a way to deal with her own life's struggles instead of simply to escape from their pressures, Zontoria should rightfully end up as that all too rare set of literary treasures that gets passed down through generations.
~ William D. Kuenning, Military Family Voices (www.militaryfamilyvoices.us)
Enjoy Reading The Wish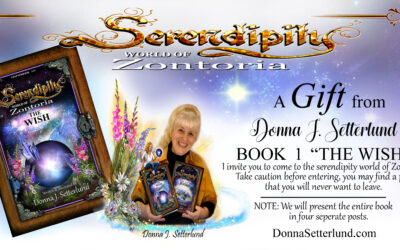 As a first time visitor to Zontoria, it is important for you to start with BOOK ONE. This is a progressive series, and to understand the premise of the concept, a visitor to...
read more