Featuring
Book 1. – Chapter ONE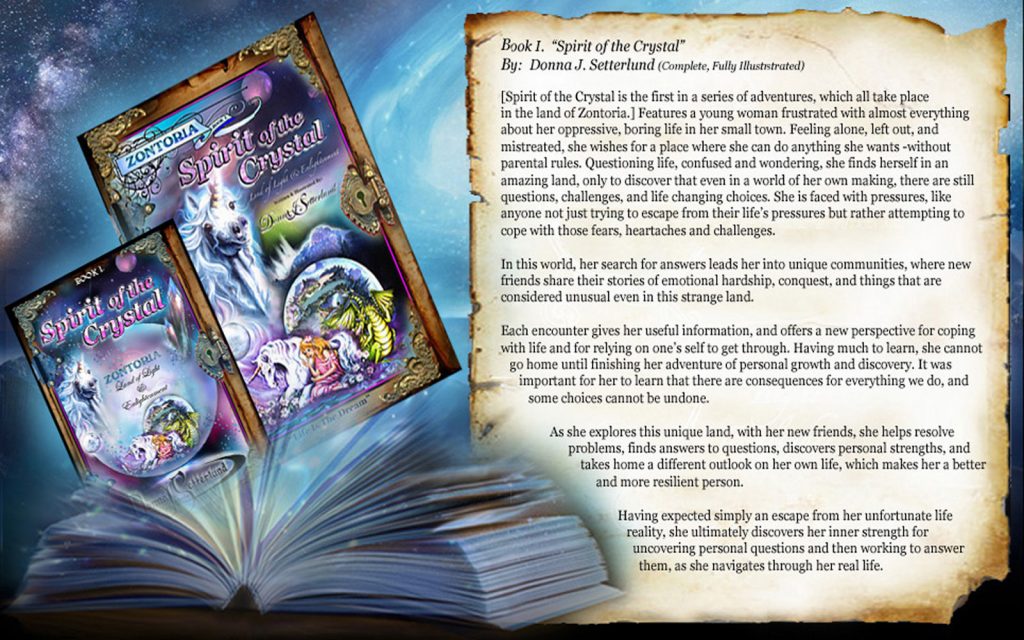 Overview:
In our worlds of the increasing complexity of sameness, Zontoria is that refreshing, simple world of fantasy that never disappoints those with an insatiable appetite for learning to cope with life without wanting to dwell on the added frustrations of just trying to figure out how to find those solutions. In short, Zontoria in its stories is different for everyone but positive for everyone. This is a world, which is deceptively simple and clean but truly singular and remarkable in its self-explorations and coping experiences.
Zontoria exists to fill a need in youth (of all ages). That universal need is to offer a true, enduring alternative to the fantasy trends of today –merely seeking to escape one's problems, and to move toward, and thrive in, the light of the opposite, to absorb into a simple fantasy that actually explores self-problems and solutions without broadcasting those as the mission.
In Zontoria, one loses themselves in a kind, simplistic alternative universe, where magic is not deception but rather is presented in its most constructive and addictive form -where the inexplicable and transforming have deep effects on us all when something seemingly impossible of our inner self struggle is teased to the surface, illustrated and usefully explored. All this interaction reinforces the hope of a better self and a way of thinking to work toward that better self.
When a fantasy world is generated from universal needs to cope with life, for all ages, there is something for everyone to explore and feel and to positively adapt to their own life, all along thinking they are reading a simple little story in a simple little universe. That is the World of Zontoria.
Copyright 2019 – Donna J. Setterlund
Zontoria Productions, Cottonwood, CA 96022