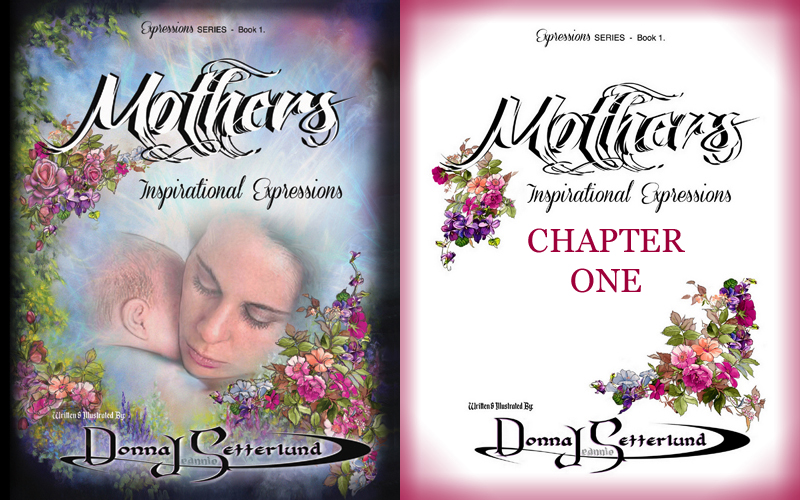 Chapter One – Circle of Life
It is almost impossible to tell a story about the life of Mothers and do it with the respect and gratitude they deserve. Expressions about the circle of a mother's life are inspiring and can tough the magical spirit of women and their incredible journey with motherhood.
This little book features expressive images, rhythmic rhyme, inspirational quotes, and expressions, to explore the lives of women
From the Author Illustrator
My life has been full of the ups and downs that come along with living on this earth. I have written and illustrated many children's books over the years but my love for creating inspirational expressions is my true passion. I love to write in rhythmic rhyme and let the words dance, writing what I feel as letters fall on my paper by chance. Life is full of magic, inspiration, and little bits of serendipity, so I create with my heart and soul, about the world that "I" see. I have always loved Norman Rockwell because he reflects images of the American culture in his art. The illustrations in this little book were created from my own memories of everyday life and bits and pieces of the incredible world around me. Hopefully they will bring a smile or stimulate a happy memory for you. Any resemblance to actual persons, places, or situations is entirely coincidental, unless you are part of my real life family. I am who I am because of everyone who has touched my world, all the experiences we have shared, and I am thankful for each and every encounter.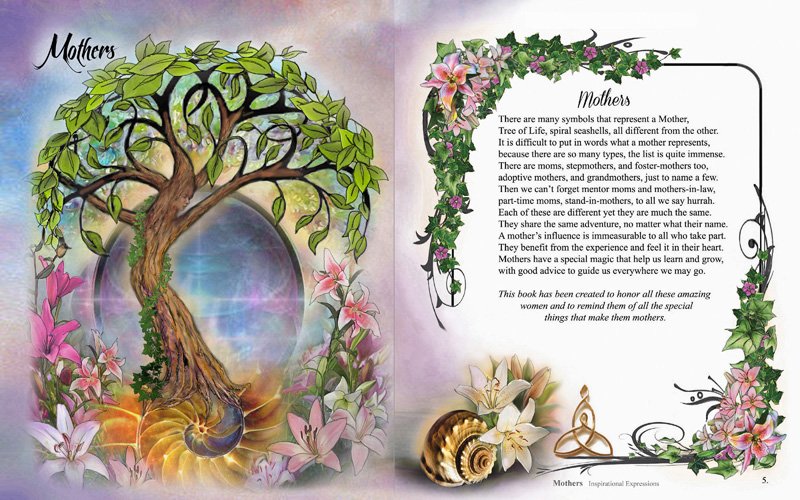 Mothers
There are many symbols that represent a Mother,
Tree of Life, spiral seashells, all different from the other.
It is difficult to put in words what a mother represents,
because there are so many types, the list is quite immense.
There are moms, stepmothers, and foster-mothers too,
adoptive mothers, and grandmothers, just to name a few.
Then we can't forget mentor moms and mothers-in-law,
part-time moms, stand-in-mothers, to all we say hurrah.
Each of these are different yet they are much the same.
They share the same adventure, no matter what their name.
A mother's influence is immeasurable to all who take part.
They benefit from the experience and feel it in their heart.
Mothers have a special magic that help us learn and grow,
with good advice to guide us everywhere we may go.
This book has been created to honor all these amazing women and to remind them of all the special things that make them mothers.
4. 5.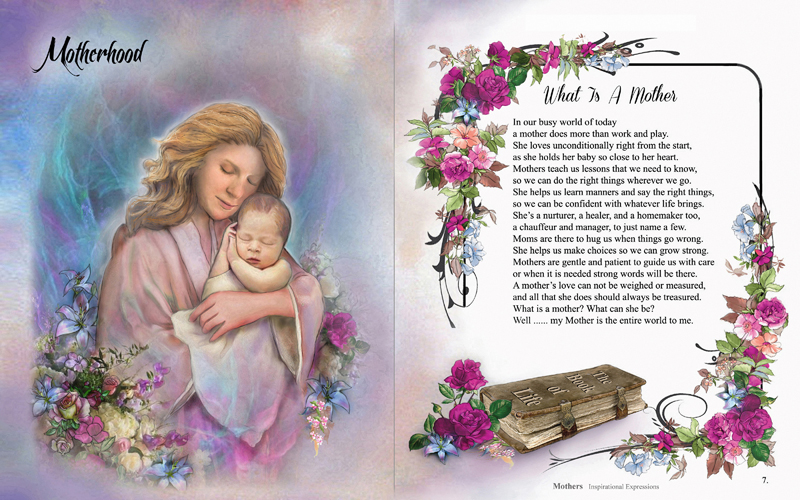 Motherhood – What Is A Mother
In our busy world of today
a mother does more than work and play.
She loves unconditionally right from the start,
as she holds her baby so close to her heart.
Mothers teach us lessons that we need to know,
so we can do the right things wherever we go.
She helps us learn manners and say the right things,
so we can be confident with whatever life brings.
She's a nurturer, a healer, and a homemaker too,
a chauffeur and manager, to just name a few.
Moms are there to hug us when things go wrong.
She helps us make choices so we can grow strong.
Mothers are gentle and patient to guide us with care
or when it is needed strong words will be there.
A mother's love can not be weighed or measured,
and all that she does should always be treasured.
What is a mother? What can she be?
Well …… my Mother is the entire world to me.
6. 7.
Enjoy the little things in life, because one day you will look back, and realize they were the big things.
Life – A Lifetime of Love
Life is an opportunity we only get one time.
It is a mouth full of words we can make into rhyme.
Eyes full of visions, excited and waiting to see
the stories of wonderment created by you and me.
Life is an adventure we travel from day to day.
Full of obstacles and challenges in work and in play.
Every journey has a beginning, an in-between, and an end,
down a road made of experience that we cannot unbend.
As we continue to move forward changing as we grow,
we move through life's stages, adapting as we go.
We grow from infant to child, then on to a pre-teen,
next a young adult, and the magical age of eighteen.
Choices should be made with thought and common sense.
Because they can not be changed and have consequence.
Believe in your dreams and try to do your best.
Fill your world with smiles and you will be blessed.
All our lives are different, no two of them the same,
yet, one thing they have in common, including the name.
We all have a mother, whose presence is everywhere.
Her lessons and influence will always be there.
You have this life because of your mother.
Respect her precious gift like no other.
Make your story one to be proud of.
Fill it with good memories and Live a lifetime of love.
8. 9.
CHAPTER TWO – Coming Soon