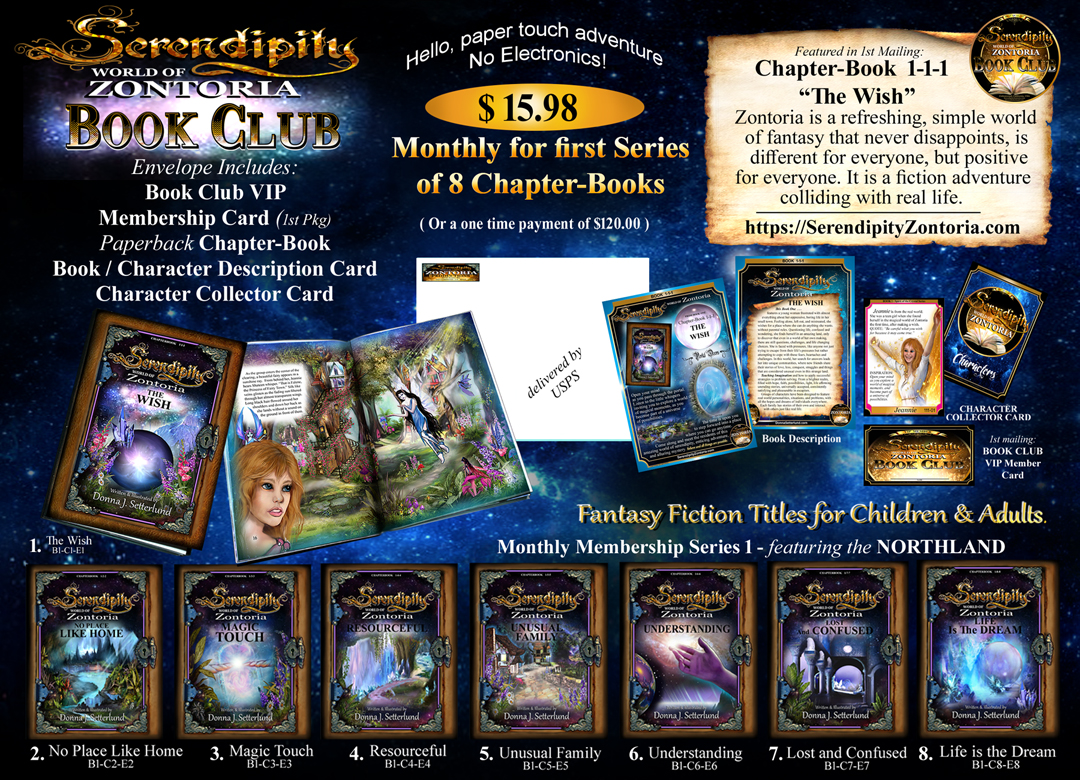 MONTHLY BOOK CLUB
This BOOK CLUB is for SERIES ONE which includes 8 chapter-books.
You will receive one paperback book each month for 8 months.
                   MAILING CONTENTS:
1st month:  "The Wish"    Book 1 ~ (Paperback)
                   1st month:  Book Club VIP Membership Card
                   Each Month: Book Description Card
                    Each Month:  Character Collector Card
Buy it for a young reader, for

yourself, or as a gift for someone who loves fantasy adventure!
You will get one paperback book in the first series of 8 chapter-books every month for eight months.
Your mailing will include a Book Description CARD, and a Character COLLECTOR CARD
featuring a different character each month. (NOTE: These collector cards are not available in any store or on-line, at this time.)
You will then receive another book once a month (shipped USPS) for 7 more months and your library will now include all eight books in the first series of Serendipity World of Zontoria
USA only
For outside US contact me for monthly rate
This exciting offer can be paid for Monthly at $15.98
or a one-time payment of $120
Your Choice Below
If you Prefer NOT to buy online,
ORDER and PAY BY CHECK