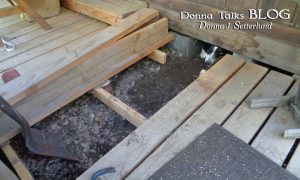 By: Donna J Setterlund
Life on the Setterlund Ranch is always filled with daily surprises. This is about our ranch dog Panda who helps keep unwanted people and wild critters away from the main yard. When I go out to do my chores, she loves to chase squirrels in the big oak tree filled pasture. Yesterday, however, was a bit different than most days. I was working in the Bunk House busy sorting boxes brought from storage, burning the old cardboard and papers that were no longer wanted. The afternoon was bright and sunny and after a couple of hours, I sat down on the porch in the shade to drink some cold water. Our puppy Sheba rested beside me watching all the activity around her. As we sat there looking out on the pasture, I did not see Panda by her favorite squirrel tree. Being mostly white, she is usually easy to spot in the green grass. Sheba and I walked out in the field and started calling and whistling for Panda to come but she was nowhere to be found. Because the pasture is so big, I decided to get my little green garden tractor and bring the horses in for their night a bit early. With the new spring grass they do their best to ignore me when I call them. On a normal day Panda helps me round them up and get them going in the right direction back to the barn. Sheba and I started our search and she ran alongside the tractor stopping at every ground squirrel hole and pile of poop, to make sure the smell was right. She has a nose of a hound and I was hoping she would guide me to Panda's new hide out. After getting the horses and cows headed in the right direction we followed the fence line hoping to spot Panda on the neighbor's three hundred plus acres. No Panda to be seen so we headed back to the barn to feed. When chores were finished I started the search again. This time I checked all the shops, barns, and Setter Town buildings thinking she may have been locked in. I even got a flashlight and looked under the Bunk House / Barber Shop building. The foundation was really low and I didn't think she could fit under the beams but I needed to check anyway. I could see most of the way across under the building foundation and I called her name over and over. I didn't see or hear anything. Going back to the house frustrated and tired, I must have looked real worried because Cliff suggested I use the car to drive over to the old homestead on our property across the road. I did and even drove up and down our road calling her name for a half mile in each direction. Please understand, Panda is a really good ranch dog, and usually comes when called or whistled to. This was not normal. I gave up for the night around 8 pm, fixed dinner, and sat down to watch TV for the evening, hoping Panda would show up by morning. About 9:30 I took Sheba out for her nightly duty and decided to walk over to the Bunk House and call Panda one more time before I went to bed. As I walked past the Barber Shop porch our cat mewed from the bench. I turned the flashlight in that direction and for a brief moment saw a flash of white through the deck boards. Panda I called! A nose appeared in an inch opening. Evidently she had squeezed under the foundation beam and couldn't get back out. She was trapped in the far corner from where she had gone in, and waiting patiently for me to find her to let her out.
Now … the only way to get her out was to remove three deck boards, cut a cross beam out, and dig down 6" so she could get her fat little body through the tiny hole. It only took an hour to get her out. She was happy and hungry as she crawled into her cozy little house. This lost and found adventure had a happy ending and I was in bed by 10:30, tired but thankful.
Copyright 2019 – Donna J. Setterlund
Zontoria Productions, Cottonwood, CA 96022