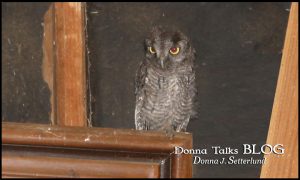 LITTLE HOOT
We have a new critter on the ranch. We call him Little Hoot. He has decided Cliff"s Shop is a good place to hide out during the day. We have heard him at night for a couple of weeks but only found him in the shop three days ago. He is only about 6″ tall and is so cute. I have heard it is good luck having an owl adopt you. Sure hope so. If nothing else it is fun to see him quietly sitting in different spots in the shop. Welcome to our ranch Little Hoot.
Update on Little Hoot 9/08/2019
It has been almost a month since I wrote the above story about our Little Hoot. Every morning I would check to see if he was still in the shop. Although he tried very hard to find secret places to sleep without being seen, he would always respond to being called. "Hoot, hoot, hoot!" I would quietly call out trying not to scare him. Looking around the rafters of the shop checking all his favorite places, a little head would pop up, or around the edge of a box, eyes big and bright as if he was glad to see us. My husband Cliff even started calling him and it was always fun to know he had returned from his night outside hunting. He got really brave and would let us get a couple of feet away from him, as long as we talked softly and didn't move to quickly.
We learned a lot about owls this last month with our grandson Cameron sharing owl facts. Did you know owls throw up owl balls created buy the bones or pieces of whatever they ate. We had a large wasp problem when Hoot first started living with us, and mice that were getting into the dog food, and making messes all over the shop. Needless to say, we don't have even one wasp or mouse left in the shop.
With all the great eat'ins gone, Hoot has left us as well. Two days without him returning has created an empty place, not only in the shop but in our hearts. We both hope he will come back again, possibly with a mate.
Be safe Little Hoot. We miss you.