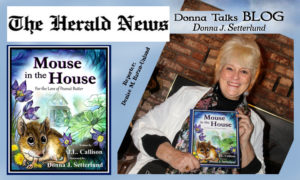 By: Denise M. Baran-Unland
Herald News Article
Even as a child, I preferred books that had illustrations with a sense of realism. And so did my children.
Unfortunately, a lot of children's books today, especially those that are self-published, have illustrations with a "cartoony" look that doesn't appeal to me.
So the fact the illustrations in "Mouse in the House: For the Love of Peanut Butter" by J.L. Callison of Aura were beautiful grabbed my curiosity and persuaded me to read the story, which is absolutely charming and reminiscent of (but nowhere near identical to) "If You Give a Mouse A Cookie."
Here is its Amazon's description: "A hungry mouse trying to get peanut butter from a trap is thrown to the table, chased by Cat, and swatted at by Father hides in Mother's dress in the pandemonium that has Baby clapping in glee. Children and adults will laugh and cringe along with the escapades of Mouse in this delightful story illustrated by the talented Donna J Setterlund."
Now about the price. Oftentimes, self-published children's books that are printed "on demand" cost way more than their traditional counterparts – especially when they're printed in hardcover.
But at $16.74 on Amazon, the hardcover version of "Mouse in the House: For the Love of Peanut Butter," is fairly close to other children's books from traditional publishers, which were around the $14.99 mark.
The softcover price was $11.99 on Amazon, which is high, when these can sell for $6.99 or so. For this reason, along with durability, I recommend the hardcover version
For a couple dollars more, you'll get a delightful story that kids will want to read (or have you read) over and over again – and one that will hold up to all the page turnings.
KNOW MORE
Each week LocalLit will deliver an original short and family-friendly story or book review by a local author to the newsletter's subscribers.
Stories should be edited and between 1,000 and 7,500 words. Featured authors will be spotlighted before the newsletter runs.
To submit, call Denise M. Baran-Unland at 815-280-4122 or email dunland@shawmedia.com