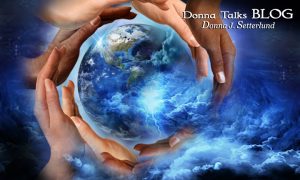 By: Donna J Setterlund
This serendipity world I live in keeps presenting surprises, and yesterday I was blessed with an extraordinary one. Several months ago a very special neighbor and friend told me, "You need to connect with Chuck Bartok." So, I contacted Chuck to introduce myself. This last Saturday we started playing message tag on FB and it took a couple days for us to coordinate our schedules to talk on the phone. It was one of those conversations that takes your world and shakes it to attention. I was invited to join a group of authors and entrepreneurs to participate on Chuck's call in Podcast at Talk Shoe.com, You Can Build It, Your Business. Episode #429. Hope I got all that correct.
As directed, I joined the group and listened as bits of information were shared and discussed. Then Chuck introduced me to the group and started explaining some of the many things I have done and presently doing. As he talked and questions were asked, I felt a flow of hope and excitement. It was like helping hands reaching out, wrapping my world with the strength and support of those who have been there and are willing to share what they have learned. I could feel a possible solution to my ongoing struggle with becoming a successful author/illustrator. Yes, internet self-publishing has opened the doors for anyone to publish a book. However, now with millions of new authors coming into the book world, it is almost impossible to get noticed. It's like an invisible wall letting you see where you want to be but you can't find the door. The creative side of producing and publishing books has always been joyful and rewarding, while the marketing and promotion side, is the beast that keeps me locked in the cage of the unknown author. A key was offered to me yesterday and all I need to do now is to listen, learn, and get to work.
I want to thank everyone who offered advice or shared their stories and I look forward to a continued relationship with my exciting group of new friends. I would like to start promoting those who are helping me and will learn the proper way of this type of promotion. Hopefully Chuck can help me with this process. Please just ask if I can do anything to help with cover designs or illustrations. Visual communications is my specialty and I love helping other achieve their dreams.
Thank you, Chuck and everyone who participated, for an extra ordinary day.
Copyright 2019 – Donna J. Setterlund
Zontoria Productions, Cottonwood, CA 96022