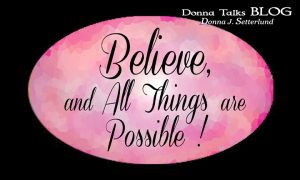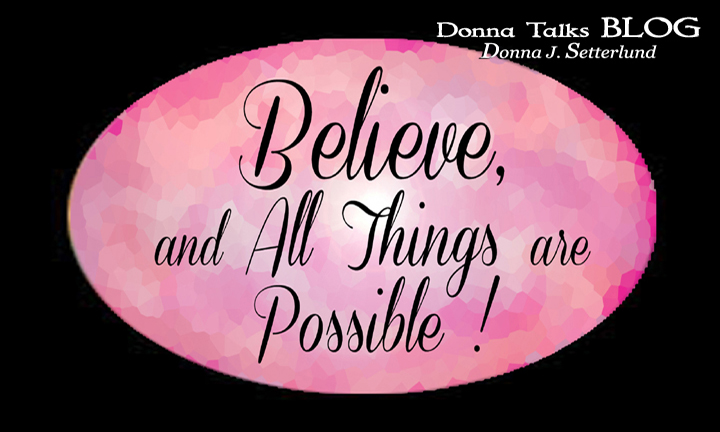 By: Donna J Setterlund
Many years ago when I started on my writing adventure, I friend gave me a little sticker which I put on the front of my amazing new computer. Although that old black& white Apple is gone, the sticker with its message remains.
"Believe, and all things are possible"
I have read this message every day since 1988. Yes, that makes me a bit older than most, however I truly believe age is only a number, and as far as I'm concerned I will remain forever young. This is in part credited to "Jeannie." I'll let her explain.
"Hi, my name is Jeannie. I am here to tell you a little bit of Donna's story. Just in case you don't know, I was the first character she created. Donna's idol was Walt Disney, and even as a child, she was drawn to his ways of coping with life's craziness and his inner conflicts. He had a mouse to talk with. Donna has me; so, I guess that makes it okay for me to try to explain things, because Donna has trouble talking about herself. I think the hardest part of life is the feeling of being alone, as we search to find our own answers. The idea that no one really understands what we are going through makes things harder. Each of us should be able to find someone to talk with but most of us are afraid or just don't know where to look. The worst is when we never have anyone to talk to. I became Donna's voice, and a communication tool, to help her speak to herself, to ask questions, and to find her own questions and answers, which in the end are many people's questions and answers. It just happened that when other people read these simple stories, they ran into "themselves" there and accidentally gained a little hope and insight for their own lives. Donna really liked that the stories might help others to find themselves through these simple worlds, and she decided to share these worlds with others."
Believe, and all things are possible. These words helped me find my younger self which restored my inner child and showed me how to look at life through a different light. I hope you can find your inner child and have fun again.
Copyright 2019 – Donna J. Setterlund
Zontoria Productions, Cottonwood, CA 96022